14 Day Sydney to Cairns Boutique East Coast Australia Tour (Valid April 2020 - March 2021. PVOSC)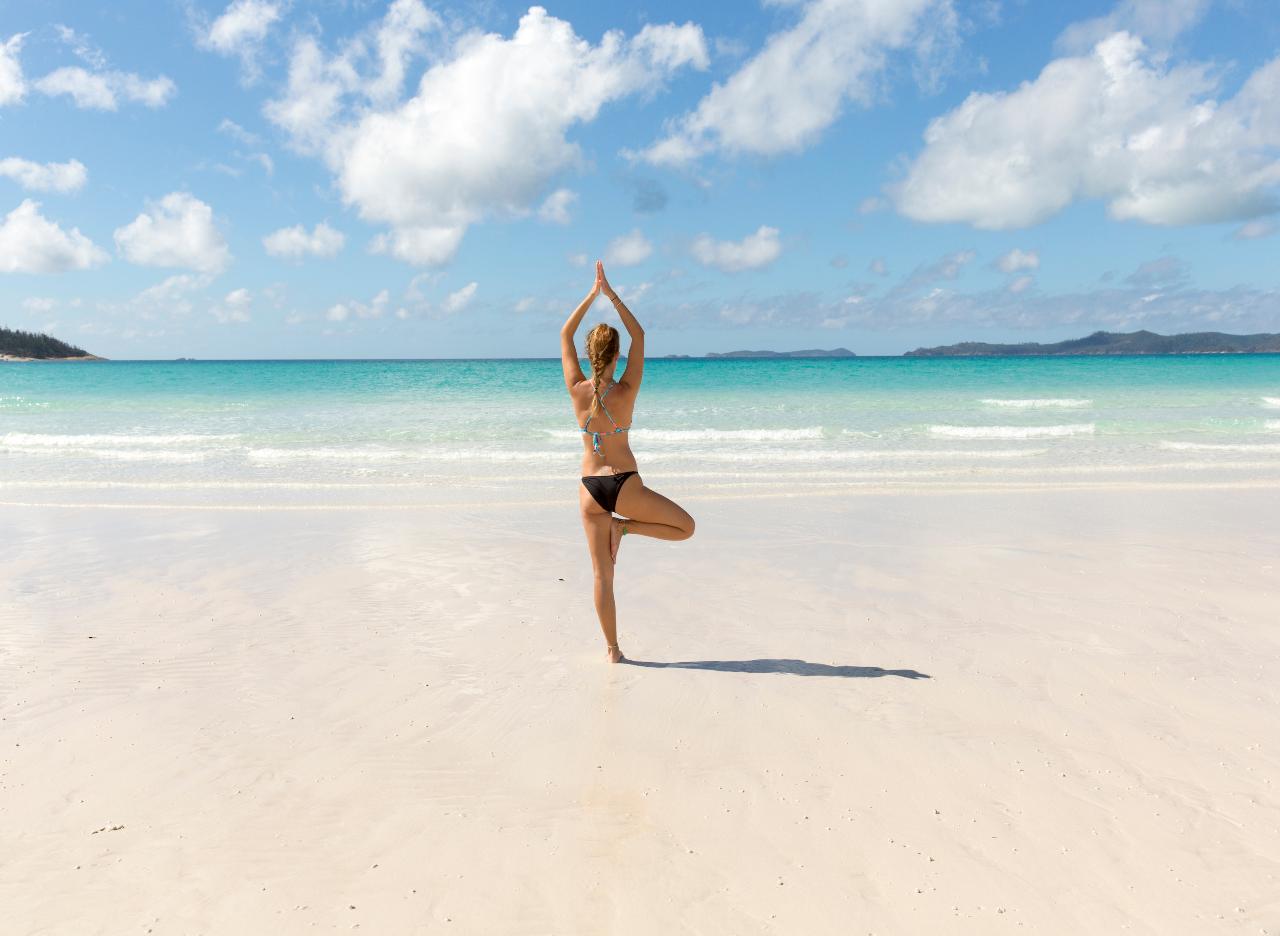 Duration: 14 Days (approx.)
Product code: PVOSC
14 Day Sydney to Cairns Boutique East Coast Australia Tour
*The itinerary below is valid for departures between 01 April 2020 - 31st March 2021
14 days from Sydney to Cairns. Boutique East Coast Australia Tours: Locally owned & operated in small groups - Food, wine, beaches, walks, wildlife and amazing nature experiences daily. Sleep well in hand picked hotel accommodation. Local, authentic knowledge and experienced guides.
Tour Inclusions
Small Group Tour (Min 1, Max 16 Guests)
All transport (Private buses, domestic flight
& boat trips)
Included free activities most days (Walks,
waterfalls, beaches, local experiences)
12 breakfasts, 3 lunch experiences, 3 dinner
experiences
Fraser Island 4WD adventure with lunch included

Whitsundays Island Explorer day cruise with a
visit to Whitehaven beach, snorkelling opportunities & lunch on board

Great Barrier Reef day cruise including 2 reef
sites, bird sanctuary, snorkelling, lunch on board and optional scuba
diving
Australian animal conservation park - Get up close to
kangaroos, emus & more with our own ranger to guide us
Port Macquarie sunset cruise & koala hospital visit
Included free activities (Walks, waterfalls, beaches, local
experiences daily)
Unique & immersive aboriginal experience
Are our tours right for you?
Small groups allow for an intimate touring experience (Min 1, max 16)
We include 'must-sees' like Sydney, Byron Bay, Fraser Island and the Great Barrier Reef, but we also expose our guests to family-run hospitality, locally-produced food and wine, and a variety of down-to-earth experiences that can only be enjoyed in small groups
We understand the importance of utilising the local community and businesses to create sustainable and long lasting relationships. We visit best local cafes, restaurants & food producers everyday.
We use a mix of 4 star, boutique & family run accommodation so guests sleep well at night.
Soft active tour style provides opportunities for nature walks, snorkelling, swimming, spotting animals in the wild
Age Requirements & Tour Style:
Must be 18+ to travel on the tour unless an approved minor (8-17 years old) is accompanied by an adult. All guest must be young in spirit & active enough to participate daily in light to medium walks, some lasting up to 2 hours
Full itinerary
Key: B = Breakfast, L = lunch, D = Dinner
Day 1: Sydney (Saturday)
We start in Australia's Harbour City, the glittering jewel in the east coast's crown. Make your own way to our joining hotel. At 2pm meet your guide in hotel reception for a welcome meeting. This afternoon enjoy walking tour of the local area and a multicultural welcome dinner. (D) Accommodation: Sydney, Macleay Hotel https://www.themacleay.com/
Day 2: Hunter Valley and Newcastle (Sunday)
We leave behind Sydney's skyscrapers and sidewalks for a wildlife park boasting an all-star cast of koalas, kangaroos, and more guided by our own personal wildlife ranger. We're in the heart of the Hunter Valley, so there's nothing better than to take a wine, cheese, chocolate and organic vodka tasting tour. We'll also visit the sunny port city Newcastle, rounding an eclectic day off with local live music (When available). (B). Accommodation: Newcastle: The Lucky Hotel. https://theluckyhotel.com.au
Day 3: Port Macquarie via Forster (Monday)
It's all about water today. After an amazing local breakfast, we hit the scenic Lakes Way for a coastal walk and lookout climb. Afterwards, we're off to Port Macquarie in time for a sunset cruise, with complimentary drinks and snacks to enjoy – if you're not distracted by the dolphins that frequently swim past.(B). Accommodation: Port Macquarie: El Paso Motor Inn. https://elpasomotorinn.com.au/
Day 4: Dorrigo National Park (Tuesday)
We start by meeting the volunteers at a local koala hospital. If you're able to tear yourself away from the cuddly critters, you'll be rewarded with a stop in Nambucca Heads to share in a unique and immersive Gumbaynggirr Aboriginal experience that will get you in touch with the traditional custodians of this land, lore and ancient cultural knowledge. We finish the day in true Aussie style in the Dorrigo National Park: at a traditional pub where you can relax, order some grub, have a few drinks and even play some pool (B). Accommodation: Dorrigo Heritage Motel (Traditional Australian Pub) or Bellingen Valley Lodge. http://www.heritagehoteldorrigo.com.au/
Day 5: Dorrigo National Park – Byron Bay (Wednesday)
It's off to Dangar Falls for a refreshing dip in its cascading waters. We visit Dorrigo National Park, known for its lush, sub-tropical rainforest and waterfalls. Next, we're headed to Byron Bay, a laid-back surf paradise with boundless coastline, sand and friendly locals. We will be paying a visit to the local lighthouse for a unique photo opportunity and the chance for the eagle-eyed to spot dolphins, whales, and other marine life. We'll finish the afternoon by popping to an organic farm where we'll pick and prepare a healthy dinner (B, D). Accommodation: Byron Bay hotel & Apartments. http://www.byronbayhotelapartments.com.au/
Day 6: Byron Bay (Thursday)
Today we're talking relaxation, relaxation, and relaxation. This day is all yours. Spend the morning on the warm sand, shopping for bargains, or indulge in one of our optional activities: yoga, surfing, kayaking or get a relaxing massage. In the afternoon, put your feet up, head to a cozy bar, or watch the world go by from one of the local cafes. Optional: Ocean kayak experience. Accommodation: Byron Bay hotel & Apartments. http://www.byronbayhotelapartments.com.au/
Day 7: Noosa & Fraser Island
We're a week into our adventure and today sees a visit to sun-kissed Noosa (via one of Australia's top surf spots and home to some of our champion surfers). We're crossing into Queensland – the Sunshine
State – which means koala-spotting in a national park followed by a magnificent drive & short ferry to our two night destination, Fraser Island – the local Butchulla people call it K'gari (paradise), and you'll find out why soon enough. This incredible slice of land is the largest sand island in the world, stretching some 123 kilometres down Queensland's southern coast and tomorrow you'll have the chance to explore
it, so get a good night's rest ready for a day of adventure – oh, and look out for dingoes! (B). Accommodation: King Fisher Bay Resort https://www.kingfisherbay.com/
Day 8: Fraser Island
Today we are talking adventure, adventure, adventure! An exciting 4WD ride through the breathtaking landscape of Fraser Island. Visit some of the renowned lookout points – perhaps Indian Head or the Cathedrals – for incredible views of the coast, then take a refreshing dive into the crystal-clear water of Lake McKenzie – an island icon. Visit the Maheno shipwreck and the coloured sands of the pinnacles, Pile Valley's awe-inspiring Satinay and Brush Box forests as well as Central Station and Wanggoolba, before adventuring along 75 Mile Beach Road – one of the best coastal drives in the country – and taking a dip in the fresh waters of Eli Creek. From tropical dense rainforest to wild offshore waters – witness the contrasting fauna and terrain of this truly unique island as you venture across undulating sand dunes
and vast golden beach, in search of that iconic outback creature, the dingo. This evening, relax at your accommodation and perhaps join the rest of your group for dinner at one of the resort's restaurants. Accommodation: King Fisher Bay Resort https://www.kingfisherbay.com/
Day 9: Noosa to Airlie Beach (Via Brisbane)
It's up, up, and away, as we take the plane to Airlie beach, hub of the magnificent Whitsundays. You get the chance to take the reins today; whether you want to stroll through the town, find a cool bar, or explore the local swimming hole, the choice is all yours! (B) Accommodation: Airlie Beach: Mantra Croc Club. https://www.clubcroc.com.au
Day 10: Whitsunday Islands Cruise and Airlie Beach
After breakfast, we're taking a leisurely day cruise through the postcard-perfect islands of the Whitsundays, including a stop at famed Whitehaven beach. Words can't do justice to the dazzling white sands, azure waters, and densely verdant vegetation of this incredible corner of the world. Get a closer look by snorkelling with colourful coral, and an array of playful fish and turtles. Afterwards, it's your chance to relax or seek out the town's best food and drink options. (B, L). Accommodation: Airlie Beach: Mantra Croc Club. https://www.clubcroc.com.au
Day 11: Mission Beach
A change of scenery today as we head through undulating cane fields to picturesque Mission Beach in a private vehicle. We'll have the perfect day to enjoy paradise this afternoon with free time as we arrive onto crystal clear waters and stunning views. Grab a book, have a swim in the pool or just sit and enjoy the tropical bliss. (B). Accommodation: Mission Beach Castaways Resort. https://www.clubcroc.com.au/
Day 12: Cairns via the Atherton Tablelands
Enjoy breakfast in a local café before we travel into the wet tropics of Far North Queensland. We'll discover a magnificent plunge waterfall nestled in dense tropical rainforest en-route to the Atherton Tablelands. Take a dip in the cool water before we head to Lake Eacham, a crater lake with crystal-clear water, and visit the massive 'Curtain Fig Tree'. We'll finish the day in Cairns, one of Australia's most vibrant, tropical and energetic cities. (B). Accommodation: Cairns (Up until Jan 2020): The Riley Hotel https://www.crystalbrookcollection.com/riley. (From Feb 2020) - The Bailey Hotel - https://www.crystalbrookcollection.com/bailey
Day 13: Cairns and the Great Barrier Reef
It's one of the highlights of any trip to Australia: The Great Barrier Reef. Today, we take a cruise to the famed reef, where we'll go snorkelling and hear a marine conservation commentary. After an extraordinary day, we'll freshen up at the hotel before having our farewell dinner (B, L, D).
Optional:
Scuba dive on the Great Barrier Reef.
Accommodation:
Cairns (Up until Jan 2020): The Riley Hotel
https://www.crystalbrookcollection.com/riley
. (From Feb 2020) - The Bailey Hotel -
https://www.crystalbrookcollection.com/bailey
Day 14: Cairns
You tour ends after breakfast (B).
Post Tour accommodation is bookable through us at Via Travel.
Extending your stay in Cairns? Ask us about short trips/activities to enjoy after the tour ends.